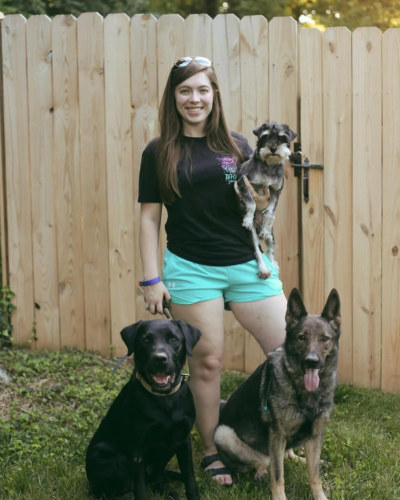 Dogs have always been a part of my life. Even at a very young age, I was training our family's dogs in basics obedience like: their name, sit, down, stay, come, etc. Working with dogs is something that I have always passionately enjoyed and it has always come natural to me.
In early 2020 I took our lab to Kayla for off leash training. During this time with Kayla & having her help my lab & our family live a better life together, my passion grew each session I had with him & Kayla. All I could think about was how much fun I was having with him all the while helping him have more structure in his life & making our life's easier!
Later that year, protection sport working dogs peaked my interest after researching different dog sports. I started by working with other peoples dogs at first, but it wasn't long until I decided I needed of my own dog to train and compete with. In February of 2021, I purchased a young female GSD named "Pepper". Since then, Pepper & I have competed and earned several titles: Family Obedience, Protection Alert, Protection Dog 1 and Police Dog 1 (x4) through Working Dogs of America, Corp. (WDA). Most recently, Pepper and I traveled to Canyon, TX to compete in the WDA National Championship Trial in the Police Dog 1 division where we made a very nice showing!
I often travel on the weekends to attend workshops and experience different training groups. I attended a decoy camp in 2022 as a 'working spot' taking several grips from some pretty nasty dogs that are part of Bristol TN PD's department. I'm always eager to learn, willing to help and driven to expand my knowledge & abilities.
I currently have 4 dogs of my own: Pepper a German Shepherd, Ruger a Lab, Envy a Rottweiler & Remi a Miniature schnauzer!
I am beyond thrilled & blessed to be able to join the Sublime K9 team! I cannot wait for what God has in store in my next adventure and feel so blessed that it will be with Kayla & the rest of the crew at Sublime K9! I cannot wait to help you & your dog understand each other and live a happy life together!