Welcome To
Sublime K9
Training & Boarding
You and your dog will love our unique dog training approach.
Having a dog as a furry member of your family can be an exciting and rewarding experience. It also can take a great deal of patience and a commitment to doing what it takes to achieve the relationship you want with them. It is much like raising a child in that regard. It is also similar in the fact that the adage "it takes a village to raise a child" can be true for your canine child, too! At Sublime K9 Training & Boarding, we use all 4 quadrants of learning in our dog training approaches to help you and your dog achieve a happy and rewarding relationship.
We know all dogs are different, and each dog gets an individualized dog training approach at our Jefferson City, Tennessee board and train facility. We believe dogs thrive on structure and clear, consistent communication. Our goal is to help you and your dog understand each other better and live a happy life together!
Our training approach is unique in a few ways. One of the biggest things we focus on is engagement. Having a dog that loves to engage with their owner means they can pay attention to their owner, no matter where they are.
Another important part of our training is teaching relaxation. One of the biggest complaints we receive is about dogs being overly anxious or not being able to settle down or relax in the home. Our trainers have attended special training seminars to learn how to teach your dogs how to relax!
Come take advantage of the most up-to-date training methods, so your dog can learn to be the best family member it can be!
Puppy Head Start
This program is for puppies 9 weeks to 5 months old. We do all foundation work for your puppy. This includes starting crate training, potty training, socialization and all basic obedience at a puppy level! $550/week. You select the amount of time your dog stays with us! This program does not get you a finished dog, but gets them started out on the right track!
Board & Train Option 1
Three weeks of training for dogs 5 months old or older. This program covers all basic commands: come, sit, down, place, heel, stays. All commands will be trained for in-home, on-leash and OFF-LEASH reliability. We will also touch base an any behavior problems and do as much distraction proofing as we can. This program is not ideal for dogs with major aggression or fear-related issues. E-collar included. Place cot included.
One on One Option 1
This package is for puppies under the age of 5 months! We discuss all things puppy: potty training, crate training, socialization, puppy nipping and more. We also get a foundational start on all your basic obedience commands. This is the perfect way to learn how to train your dog and get them started out on the right paw! 4 30 minutes lessons for $200. One on one lesson.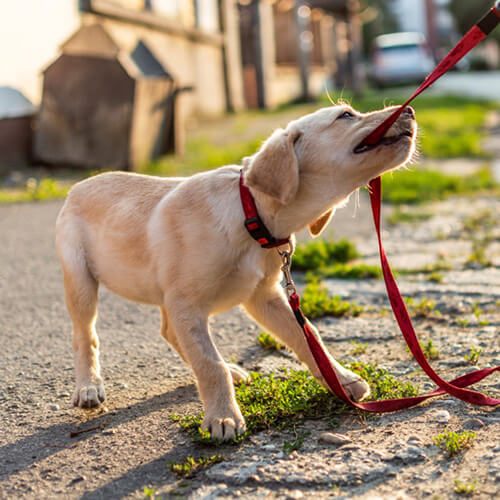 Puppy Training
Puppies from 9 weeks to 4 months old can get started on the right path with the foundational work of our puppy training methods.
Dog Boarding
Boarding includes as much time out of the kennel as your dog needs, and if your dog is social, it includes plenty of supervised playtime with other dogs!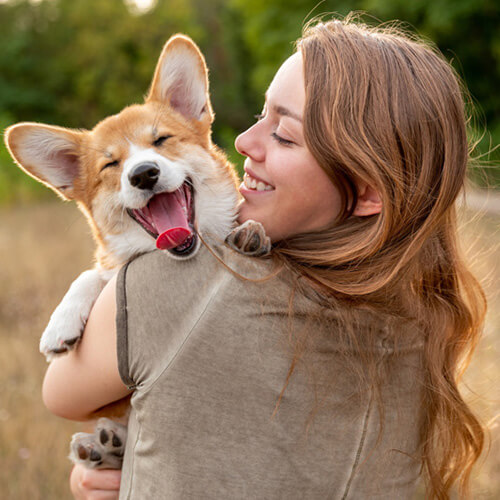 Pricing
Click here to see a list of all our programs and pricing
Many program options
Your dog is unique and needs a tailored training approach, so we offer a variety of board and train options, as well as private and in-home lessons. We want to make sure our approach will lead to the best results for your situation.
Our trainers are awesome
All of our dog trainers are certified, and this is their full-time job. They also have sweet personalities and a passion for dogs
Lifetime support
The key to the training sticking is for you to reinforce the training at home, and we are here to address your questions along the way in our Facebook support group
"My German shepherd, Odin, is massive and was very reactive to new dogs. He completed the 2 week board and train program with Kayla and is a completely different dog!! We can take him out to the store without the fear of him not listening or pulling me on the leash. The training is above and beyond my expectations. When we take Odin out, we get several compliments about how well-behaved he is! We are sooo pleased with Kayla's training!! It makes me so excited to take Odin out in public! "
-Elizabeth H.
"Highly recommend Kayla. We started our dog, Elton, with puppy lessons, and then did obedience class. Kayla was great with showing us commands and how to operate the e-collar. Our goal was to eventually let him out without his leash. Thanks to Kayla, we are finally achieving our goal. "
-Jondra C.
"Our boy, Cooper, is a 10-month-old beagle. He's very social and loves everyone he meets but was very stubborn in obedience and prone to bolt through open doors with no recall. We inquired about obedience training, and Sublime K9 Training & Boarding came highly recommended by friends and family. We contacted them and were put in touch with trainer Lauren, making arrangements for a two-week training and boarding session. During the session, we were sent updates via text and video regarding Cooper's progress. Upon his "graduation," we were amazed at the progress attained. Lauren is very talented. She has an obvious love and passion for dogs and obedience training. Lauren and Sublime K9 Training & Boarding are highly recommended."
-Michael P.
Contact Us
Our professional dog training services are conducted by full-time, professional trainers who truly care about your dog and want the very best for them and for you.